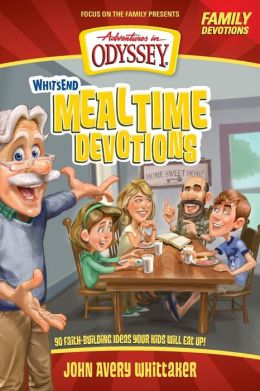 I was given the opportunity to review a
Focus on the Family
meal time devotion book for children published in 2013 by
Tyndale Publishers
.
It's called Whit's End Mealtime Devotions:
90 Faith-Building Ideas Your Kids Will Eat up!
by the fictional character, John Avery Whittaker,
This is a Focus on the Family Resource Book.
Whit refers to it as a "90 five-course devotional menus".
Each one includes a:
Mealtime Prayer
~ a fresh way to bless your food
Appetizer
~ a fun question or activity
Main Course
~ an object lesson or thought to chew on
Table Talk
~ questions to spark interesting discussions
Vitamin and Minerals
~ a creative way to thank God for your time together
or a reminder that God provides all we need.
The book is broken up into three parts:
Holiday Devotions
Theme Devotions
My first overall impression was "super cute and a fun way to teach your children the Christian faith in the comfortable setting around a dinner table."
Children will love this book!
It will inspire giggles, honesty, and thoughtful comments.
Parents will too, for it's easy format and non threatening questions.
It's not a theology or faith based test.
Children will not feel pressured to answer correctly yet to explore the scripture verses,
how their actions either please or displease God,
and invite Jesus into their meal time.
Whit's End Mealtime Devotions can be used over and over again.
As children mature, they will find themselves thinking about the questions and answering in a whole new way than when they interacted with it the year before.
It's not only for home use but it can be adapted to use in a classroom or brought to a restaurant.
I can even imagine the creative minds of kiddos inventing and
initiating their own five course menu conversations!
I would highly recommend this book for all families and for teachers.
Blessings,
Noreen