With the recent passing of my dad, I've been contemplating purgatory and was immediately drawn to this book out of an extensive list of choices to review from
The Catholic Company
. It's called
"Prayers, Promises and Devotions for the Holy Souls in Purgatory"
by Susan Tassone. As it states, it consists of prayers, devotions and promises given to the saints by divine revelation throughout history and as well as by Sacred Tradition. She is not intending to prove that purgatory exists rather she is sharing what she has learned through her extensive research on this topic based off of the saints.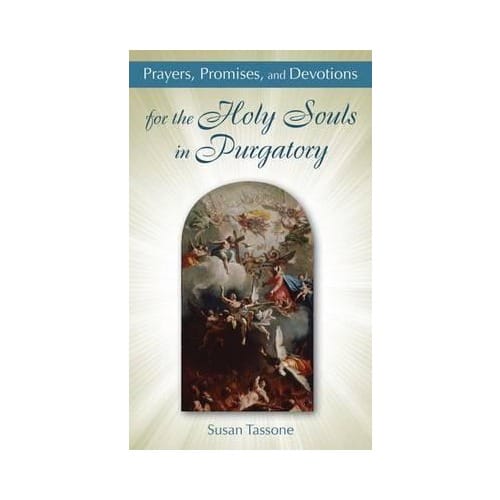 I guess I could say, I didn't "read" the book but I "prayed" it. For those who do not believe or have trouble believing in purgatory, the introduction is for you. It's called "Why Should We Pray for the Holy Souls in Purgatory?" Here is what Ms. Tassone states:
"Purgatory is the masterpiece of the merciful heart of God, the marvelous genius of his love.
However, the holy souls in purgatory can no longer gain merit for themselves.
Once the soul leaves the body, the time of merit us up.
Then they are paying a debt.
They suffer unceasingly.
Our Lord wants his captives free."
Her book starts out with a novena of prayers and reflections. For example, Day 1 begins with a quote from C.S. Lewis (well-known Anglican author and apologist) stating "Our souls demand purgatory, don't they?" It then goes on to offer insights into this doctrine that dates back to the early Christian Church. Such as, "St. Gregory the Great is best known for bringing us the Gregorian Chant, standardizing the Roman Canon Mass and being the first to organize Church alms for the poor. He also popularized the pious practice of offering thirty consecutive Masses for one deceased person." He lived over five centuries after the death of Jesus and took this doctrine seriously. Each chapter is filled with these type of insights and quotes from the saints.
Ms. Tassone's book is chock full of information as well as ways to pray for the souls in purgatory. As part of my experience reading this book, I prayed the novena and each prayer for my father and other deceased family members. I didn't want to assume they were in Heaven when I could be using my time wisely here on earth by praying for them. I felt so strongly after reading this book, that I made sure to remind my son of this important, rarely talked about doctrine. I want him to pray for my soul when my time comes. Sadly, in this current age, we don't hear much at all said about purgatory. In fact, many Catholics today don't believe in it. This book will enlighten any person about the long history of this doctrine and it's current belief in our church. It really is a must read for all Catholics and Christians alike.
Since Christmas is a few days away, here is one last quote from St. Teresa of Avila. She tells us that "the most souls are released on Christmas Day, followed by the number of souls released at Easter and then the feast days dedicated to Our Lord and Our Lady." Let's start offering up prayers for the holy souls in purgatory for our beloved family members and especially for those who have no one to pray for them.
Advent Blessings,
Noreen