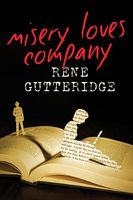 My latest book review is a mystery called
Misery Loves Company
by Rene Gutteridge. The premise of this book is the disappearance of a grief stricken widow. She works from home as a blogger and after writing a negative review of a best selling author, she is nowhere to be found. I felt a bit confused in the first few chapters with the roles of the characters and had to go back a couple of times to clarify who was who and what was happening. And even to this point, I don't think the author wrote how the main character was kidnapped. I may have missed it but I believe the details were left out. This may not have been important to the author but I wanted to know how it was done. I also felt the book was a bit misleading with the "Don't tell me it's terrifying. Terrify me" comment in her review. I expected more of a thriller aspect to it that left me a bit disappointed. I didn't want goriness like Stephen King's
Misery
but if you're going to say "terrify me" it builds up an expectation to be terrified.
After the first few chapters, I found the book to be compelling enough with wanting to know what was going to happen next. I read the book in a couple of days and overall liked it. It's a good book to read over the summer while at the beach or pool.
Tyndale House Publishers has provided you with a complimentary copy of this book.
Blessings,
Noreen